Optimized market presence through classic and innovative marketing.
High media values and a strong return on investment through professional PR work.
Effective and authentic social media marketing by true tourism experts.
Creative and affordable multimedia solutions for your brand.

Organization of successful networking or training events in selected locations.
Reliable handling of consumer requests and mailings.


Strong booking numbers by educating counter staff through webinars and elearnings.

We are also there for you on project base. Just contact us and we will let you know more.

We're experienced, fresh and passionate about travel.
TravelMarketing Romberg TMR GmbH, or TMR as we call it, has successfully represented international travel destinations in the German-speaking markets Germany, Austria and Switzerland since 1992.
A few things we're great at
We'd rather talk about our clients than about ourselves. However, here are four of the many reasons why you should consider working with us.

During all the years working in the representation business, we have made priceless connections with the German-speaking tourism trade and media as well as influencers and also non-tourism partners at all levels. You are able to directly profit from our vast network.
Our clients' needs are important to us and we will make every effort to surpass your expectations. At TMR, you will never be handled like a "profit center". Besides the professional level of our partnership, we also appreciate the personal relationship with all our clients.
All our staff members are highly qualified. Our work standards are high and everything we deliver bears our signature of quality. At TMR, your Account Manager will care for your business, not interns or apprentices. We will always go the extra mile in order to turn a good campaign into a great one.
You will find a result-driven approach in all of our work. We will set goals for all projects and campaigns and measure their effectiveness to ensure a maximum return on your investment. We do not hide behind marketing phrases – honesty and a realistic approach are among our key values.
We are members of the German Travel Association (DRV) and Corps Touristique e.V. (CT).
Let's talk about size and its importance in relationships
With a small team of tourism experts, our agency is large enough to benefit from each other's experience and to make use of synergies. However, we are small enough to offer a very personal service to our clients. You will receive a dedicated contact person as well as tailor-made campaigns and strategies.
We identify ourselves with our clients' products (and only assign staff members who can share their enthusiasm for a destination). Our passion enables us to convince consumers and media to really get to know a destination.

Due to the Covid 19 pandemic and the resulting home office and short-time working regulations, we are currently not always available by phone.
The best thing is to send us an email and we will get back to you as soon as possible. Below you will find all contact details for our team.

All members of our team have an academic background and comprehensive knowledge within the travel industry. We share expertise in different fields and transfer these into a competitive advantage.

Even after 45+ years of travelling I still enjoy getting to know people and cultures all over the world.
Phone: +49 (0)211 86 84 25 80
Contact person for all existing and new clients.

Account Director/Officer with Statutory Authority

Many people tell me that they would like to be as tall as me. Until they sit next to me on the plane … #legroom
Phone: +49 (0)211 86 84 25 82
Contact person for Michigan and Nova Scotia.

Art Director & Social Media Manager
When travelling to a new destination, I like to explore a (super)market first, to get a feel for a place and its people. And a local gin…

Phone: +49 (0)211 86 84 25 84
Contact person for social media/graphics and Aranui.

My favorite way to explore new places is by foot, as a part of it I love to enjoy a view from above.
Phone: +49 (0)211 86 84 25 87
Contact person for Arizona.

Budget Controller & Accountant
I have a really long wish list of
destinations at home – and try to
cross off one every year.
Phone: +49 (0)211 86 84 25 85
Contact person for accounting.

In my spare time I write, record
and publish my own audio books
on Youtube.
Phone: +49 (0)211 86 84 25 91
Despite being a trained chef I hardly ever cook for my colleagues, their tastes are just too peculiar!
Phone: +49 (0)211 86 84 25 92
Contact person for Logistics.

My greatest pleasure is planning the next trip, discovering new countries and
meeting their people
Phone: +49 (0)211 86 84 25 99

Contact person for the BVI.

It's not just the traveling itself that excites me, but also the anticipation and the memories of what I've experienced.
Phone: +49 (0)211 868425 80

Contact person for the GoSociable database.

For me, tourism PR is not just advertising. Its main goal is to inform people
about exotic destinations.
Phone: +49 (0)211 86 84 25 82

Contact person for Jersey and Guyana PR.

Trade Manager (Freelance)

I am passionate about capturing the atmosphere of places with my camera. My way of preserving them for years to come.
Phone: +49 (0)211 86 84 25 82

Contact person for Jersey and Guyana (Trade).

Account Manager (Freelance)

Being on tour I like to ride a bicycle. For me this is the best way to really explore a new destination.
Phone: +49 (0)211 86 84 25 90

Contact person for Jamaica.

2021 – A year for social
media
The pandemic year 2021 is over and it is time to look back. Last year had its ups and downs. There were the first rays of hope: Borders were opened and long-distance travel became possible again, albeit with some bureaucratic effort. We visited the first trade fairs and events – and enjoyed meeting colleagues and business partners in person again.
One constant throughout the year was our social media work. We find, especially in pandemic times, regular posts are perfect to stay in travellers' minds. We wrote 1,123 posts with an added value in total for our clients on Instagram and Facebook, and enjoyed lively interest in our photos, stories and travel information. Take a look: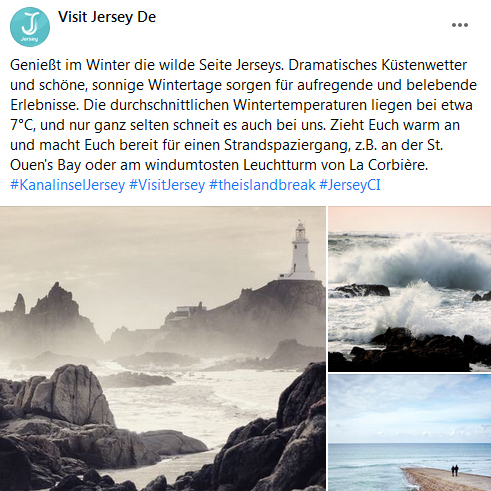 Who is travelling where? Who are we cooperating with? And what are our plans for the coming weeks? Are there any news regarding our team? We will let you know here from time to time.

<!—-><!—->
<!—->
<!—->
<!—->
<!—-><!—->
<!—->
<!—->
<!—->
This week we had to say "Farewell" unfortunately. Lena Feldkamp, who worked as Account Manager for Jersey, [...] has left us
You will find older news articles in our News Archive.
Keep up to date with what's going on in our world on Facebook.

+49 – (0)211 – 86 84 25 80

info [at] travelmarketing.de

TravelMarketing Romberg TMR GmbH
c/o Factory Campus
Erkrather Straße 401
40231 Düsseldorf
Germany